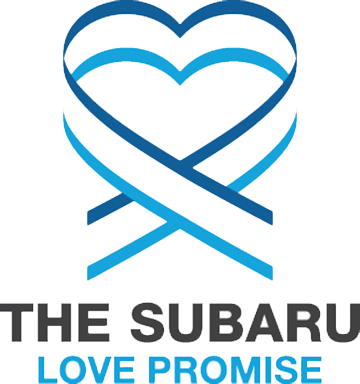 What is the Subaru Love Promise?
Subaru and our retailers believe in making the world a better place and the Subaru Love Promise is our vision of respecting all people. This is our commitment to show love and respect to our customers and to work to make a positive impact in the world.
How is Southern States Subaru dedicated locally to the Love Promise?
Our Love Promise can be seen in various partnerships with local charities and non-profits. We're grateful for the opportunity, not only to be a part of our community, but to serve it as well.
Second Chance Pet Adoptions, SPCA of Wake County
Love Promise Stories from Southern States Subaru
Subaru and Southern States Subaru believe in making a positive impact on the communities in which we live and work. We uphold that belief through our Love Promise Community Commitment. Every month, we select inspiring stories from customers and partners from around our area who strive to support our collective commitment and feature them here
Absolute Heroes - Chris A
Dear Chris and our friends at Subaru, John describes you as "absolute heroes." 13-year-old Conrad talks about your kindness. Since his liver transplant in 2016, Conrad's family has spent 30 nights at the Ronald McDonald House. To hear Conrad and John talk about their journey and what a difference YOU made, watch the Subaru Hero Video: 2020 Hero Video for Southern States Subaru of Raleigh - YouTube I hope you'll share this video with your team, as well as our deep gratitude. Thank you for your involvement, leadership and generosity – you make a world of difference for kids like Conrad and their families. Sending best wishes for happy and healthy holidays from our House to yours! Traci Traci Cortez Director of Events + Community Engagement Ronald McDonald House of Durham and Wake
---
Make a Dog's Day - Andy A
Subaru is proud to establish the first-ever National Make A Dog's Day October 22nd. As part of Subaru Loves Pets month, we're inviting all dog lovers to do something extra special for their furry best friends. Plus, Subaru will be focusing our efforts on helping the hardest-to-adopt shelter Dogs –those with special needs-find homes. Get ready to fall in love withThe Underdogs. #MakeADogsDay Meet Gabi! Gabi has been at the Humane Society of NWGA (Northwest Georgia) for seven years. If you asked the volunteers to pick their favorite animal at the shelter, Gabi would win hands down. She does not do well with dogs or cats so must be the only animal in an adult only family. She loves people and will bond very quickly to you. Gabi would make someone a great companion. She is waiting patiently for her forever home. If you have room in your heart and your home for this sweet girl then please fill out an adoption application, highlight and right click this link: https://hsnwga.org/adoption/application-for-adoption/?fbclid=IwAR2Ie18p6U3ryKi-niIuIZFTd-waD98xrySl7IJmiRBXE239WP7dpODubiU #MakeADogsDay #SubaruLovesPets #TheUnderdogs
---
Subaru brings comfort to families - Krissy D
Southern States Subaru accompanied the Leukemia & Lymphoma Society to the Ronald McDonald House in Chapel Hill on Monday, July 16th. It was the first time any of the Subaru staff in attendance had participated in this 3rd annual delivery of blankets and kid's craft kits, and they were excited to be a part of it. Cathy Hall, at the Ronald McDonald House, loved the new look of the 80 blankets that were donated and delivered. She commented that they were able to give away many of the blankets from last year as presents for families during Christmas-time. RMH will distribute the blankets similarly this year, as needed throughout the summer and fall, and then the remainder will be gifted as a special Christmas surprise. The Ronald McDonald House is pleased to have another small piece of comfort to offer to families while they are away from home. They look forward to a continued partnership with Subaru and the Leukemia & Lymphoma Society.
---
Carlson Subaru Love Promise to Home for Children - Paul T
Carlson Subaru donated $30,000 to the School of Graphics Art at the Masonic Home for Children at Oxford, NC. First envisioned in 1875 by John H Mills, Superintendent of what was then referred to as Oxford Orphan Asylum, the School of Graphic Arts has grown over the years into a vibrant and integral part of campus life as well as an important partner to the local business community.Since its beginning over 140 years ago many students have learned the valuable trade which carried them into adulthood. Even more important than that was the work ethic learned here that has followed them every step of their lives whether they continued with their printing careers or not. Sharing the Love is a great program that Subaru has started and we are so thankful for all they do.
---
Subaru Cares about about those fighting cancer - Krissy D
On June 23rd, four generous Subaru employees accompanied me, from the Leukemia & Lymphoma Society, to the Ronald McDonald House (RMH) in Chapel Hill to deliver 80 blankets and 10 children's craft kits to families staying at the house. Staff at RMH were grateful for Subaru's kind donation which they'll save to share with families during the chilly fall and winter months to come. Children staying at the house will have the opportunity to enjoy the donated craft kits which were complete with crayons, paint, chalk, and more. It was a memorable experience and a touching example of Subaru's amazing culture of caring!
---
Fresh Start - S C
After a bitter divorce and 6 months of after shock, I walked into Southern States Subaru in Raleigh and met with sales agent Donnie Jackson. With only a minimal amount of info, I knew he understood my situation when he said: "You want a fresh start". Within three hours of us working as a team and my getting a great price and sales manager Sean Stafford throwing in a few extras, I walked out of the dealership with Little Roo - a 2017 Forester. Donnie made the entire process easy, fun and simple which is exactly what I needed. I know my Little Roo is in good hands with Chuck Vasquez and the entire service department team as they are knowledgeable, eager to please and do excellent work. Now, every time I get behind the wheel, I feel good about my purchase of Little Roo, my beautiful life and I am reminded of my new motto: A Fresh Start
---
Subaru Loves the Earth - E-Waste Event - Danielle S
We would like to thank our customers for participating in our E Waste Recycling event during the month of April. With your help, we were able to prevent 2,362 lbs of carbon emissions from polluting the atmosphere. This is equivalent to saving 91 trees, 402 gallons of gasoline, 3,424 plastic bottles, and 15,747 aluminum cans. Thank you for helping strengthen the Subaru Love Promise!
---
Share The Love - Casie W
We are so honored to have UNC Children's Hospital as our Subaru Share the Love Home Town Charity. UNC Children's helps children throughout the state of North Carolina, "no matter how critical or rare their challenges." Southern States Subaru could not be more proud to present this check to UNC Children's Hospital!
---
April 1-30, 2015 E-Waste Recycling Event - Molly M
Throughout the month of April, we are hosting an E-Waste Recycling Event in our store to collect unwanted electronics. We've arranged to work with a company who will responsibly collect, re-purpose, and recycle your electronic waste. Help us protect our environment. Just show up with your E-Waste and we'll do the rest! The first 50 customers who contribute will receive a complementary environmental badge of ownership. We will accept: LCD Monitors, Cell Phones, Laptops, Tablets, CRTs up to 40 inches, Video Games/Consoles, Fax Machines, DVD/VCR Players, Printers, Computer Peripherals, Switches/Routers, Cords and Wires.
---
Southern States Subaru Customer Service That Is Truly Above and Beyond - Erin O
I just wanted to share my exceptionally pleasant experience in purchasing a Forester in May from Donald Jackson in Raleigh, NC. I have purchased many cars, and I have NEVER dealt with someone like Donnie. He was everything a car salesperson should be (but they rarely are). He was well informed about every vehicle about which I had questions, yet did not overload me with superfluous details (or--worse!--assume I didn't know what he was talking about because I'm a woman). He was extremely responsive (answered e-mails promptly even after 10:00 at night), but never pushy. He listened carefully to what I said I wanted and make great suggestions, but STILL encouraged me to drive multiple vehicles just to make sure I got the perfect one. The patience he demonstrated on my first day at the dealership never flagged throughout the WEEKS it took me to make up my mind and finalize the purchase. He was extremely friendly,laid-back and approachable, but always professional. And, lastly, he was HONEST. When I asked questions, I got straight answers instead of schmoozy ones and when I asked for price quotes, I got great ones (this is the ONLY time I've never felt the need to haggle over pricing)! Oh, and months later, he STILL answers my questions honestly, promptly and professionally. I never thought I'd be able to say that I felt like a car salesperson had my back or was looking out for my best interests, but that is EXACTLY what I would say about this experience!
---